Postbank Finance Award

Double Victory at the Postbank Finance Award 2014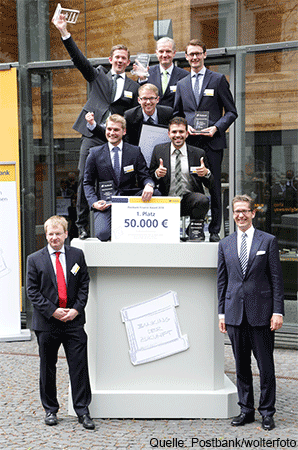 The team of the Chair of Banking and Behavioral Finance, consisting of Benjamin Holstein, Alessandro Monaco, and Alexander Nahr (all MSc Business Administration), has won the first prize in the Postbank Finance Award 2014. At the same time, the team which participated for the first time and prevailed over 26 other groups won the WELT Finance Essay Award 2014 - a double victory that no other team had achieved since the establishment of the award in 2003. The team was supervised by Prof. Dr. Markus Nöth and the research assistants Christian Königsheim and Moritz Lukas. The Postbank Finance Award is endowed with € 50,000. The prize is equally divided between the chair and the student team. Furthermore, the WELT Finance Essay Award is endowed with € 5,000. 
The Postbank Finance Award is the most highly endowed German university competition in the banking and finance sector. A total of € 100,000 is awarded to the winners, which are selected by a jury consisting of nine members from research and practice, chaired by Prof. Dr. Erik Theissen (University of Mannheim).
This year, the competition was held under the topic "Banking 3.0 - between digitalization and humans". The winning team examined the increasing competition for banks emanating from young startups and provided guidance for retail banks in 2020.
Further informations (in German) can be found here: